Truck-A-Saurus has been found. Sadly it's been torched and is a complete wreck :-(
Images can be seen here.

Sunday June 10 - Up the range with Ian.

Saturday June 9 - A ride to Coloundra with Roger.

Truck-A-Saurus has been stolen!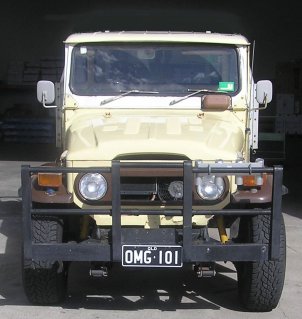 1977 Toyota Landcruiser FJ45 Ute, 351 cleveland V8, 3 speed automatic gearbox.
Stolen from Westfield Strathpine on Tuesday 15th May 2007.
If you see this vehicle please contact the Queensland Police Service on 07 3364 6464 and quote Crime Report No:01/161369. Thank You.


Cas and Rangi's House Party

Brisbane Riverfire 2006

More Monty Photos.

Brew By U Micro Brewery.

Monty strikes again.

Berns Home Entertainment PC.

The Caboolture Air Spectacular 2004.

Brisbane OCAU Photographic Meetup, 16/05/04.

Monty the Python

How to install a new hard drive and copy your linux install without losing any data.

Adding google/linux to Konqueror's web shortcuts.

Bern's Demo Site.

Fang's home page.

KDE-3.1b2.

Gnome2.

OCAU wallpaper.

Bern on Tour.