Revell 1/144 USS Fletcher DD445

Dragon 1/35 Pz.Kpfw.VI Ausf.E Tiger I Late Production w/Zimmerit

Curtis P-40 Warhawk, Lt.Col Robert Baseler, CO 325th FG, Mateur, Tunisia, September 1943

AFV Club 1/35 155mm Howitzer 'Long Tom'

Cyber-Hobby 1/48 Bf 110D-3

1/35 Hobby Boss GMC with 40mm Bofors AAA

IBG 1/35 Einheitsdiesel with Bilsten recovery crane

Airfix 1/48 Boulton-Paul Defiant NF Mk.II

Mirror Models 1/35 D.A.K. CMP F15 with 20mm Flak 30

Mirror Models 1/35 D7 Bulldozer

AFV Club 1/35 Churchill Mk.IV AVRE with Resicast SBG Assult Bridge

AFV Club 1/35 8.8cm Pak 43

Resicast 1/35 Ordnance QF 18pdr with Limber and Wagon

Eduard 1/48 F6F-3 Hellcatt

Vulcan Models Zundapp K800 with STEIB Sidecar

Mirror Models 1/35 Diamond T 969A Wrecker

Eduard 1/48 Me109E-1

Tamiya 1/35 Sd.Kfz.173 Jagdpanther

DML 1/35 Sd.Kfz.171 Panther Ausf.A

DML 1/35 Pz.Kpfw.IV Ausf.D mit 7.5cm Kw.K.40 L/43

Mirror Models 1/35 Indian 741B Motorcycle

Hasegawa 1/48 Hawker Typhoon Mk.1b

Eduard 1/48 Bf-108 Taifun, KG+EM, Sonderkommando Blaich, Libya 1942.

ARII 1/32 '56 Mazda T2000

Tamiya (Italeri) 1/48 Hurricane Mk.1, Squadron Leader A. McKellar, No605 Squadron, RAF, Croydon, November 1940

AFV Club 1/35 Centurion Mk 5/1, "Pussy Eater" C Squadron, 1st Armd Regt, RAAC, Vietnam 1971.

Eduard 1/48 Spitfire Mk.IXc

Tamiya 1/48 Vought F4U-1a Corsair

Airfix 1/48 Me109E-3

Truck-A-Saurus has been found. Sadly it's been torched and is a complete wreck :-(
Images can be seen here.

Sunday June 10 - Up the range with Ian.

Saturday June 9 - A ride to Coloundra with Roger.

Truck-A-Saurus has been stolen!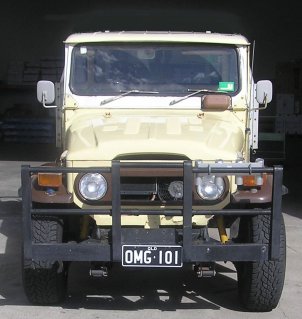 1977 Toyota Landcruiser FJ45 Ute, 351 cleveland V8, 3 speed automatic gearbox.
Stolen from Westfield Strathpine on Tuesday 15th May 2007.
If you see this vehicle please contact the Queensland Police Service on 07 3364 6464 and quote Crime Report No:01/161369. Thank You.


Cas and Rangi's House Party

Brisbane Riverfire 2006

More Monty Photos.

Brew By U Micro Brewery.

Monty strikes again.

Berns Home Entertainment PC.

The Caboolture Air Spectacular 2004.

Brisbane OCAU Photographic Meetup, 16/05/04.

Monty the Python

How to install a new hard drive and copy your linux install without losing any data.

Adding google/linux to Konqueror's web shortcuts.

Bern's Demo Site.

Fang's home page.

KDE-3.1b2.

Gnome2.

OCAU wallpaper.

Bern on Tour.